Trust Wallet is a popular decentralized cryptocurrency wallet that provides non-custodial crypto asset storage, granting users full control over their cryptocurrencies. Accessible through a browser extension and a mobile application, it provides a secure storage solution for around a million digital assets.
Trust Wallet supports 53 blockchains and allows users to trade coins between different blockchains, store NFTs, and earn crypto through staking.The wallet provides various features, including an integrated exchange, support for non-fungible tokens (NFTs), and direct integration with select decentralized applications (DApps) built on around 16 networks.
Quick Guide: How to Withdraw Funds from Trust Wallet
Open Trust Wallet: Open the Trust Wallet application or access the browser extension to view the assets stored in your wallet.
Select a Cryptocurrency: Choose the specific digital coin or token you wish to withdraw. If multiple assets need to be withdrawn, repeat steps 2-4 for each one.
Provide Withdrawal Details: On the Trust Wallet app, click Send. Enter the amount of cryptocurrency you intend to withdraw and the recipient's address.
Confirm the Transaction: Review the recipient's address, withdrawal network, and the amount to be sent. If unsure, it's advisable to initiate a test transaction with a small amount of cryptocurrency for the first time. Carefully review the transaction details and confirm it to complete the withdrawal process.
What Is Trust Wallet?
Trust Wallet is a software wallet enabling users to buy, sell, and exchange various coins and blockchain assets. You can trade coins between different blockchains and stake your assets to earn interest.
Trust Wallet simplifies the process of purchasing cryptocurrencies, by allowing users to easily buy crypto using their credit cards.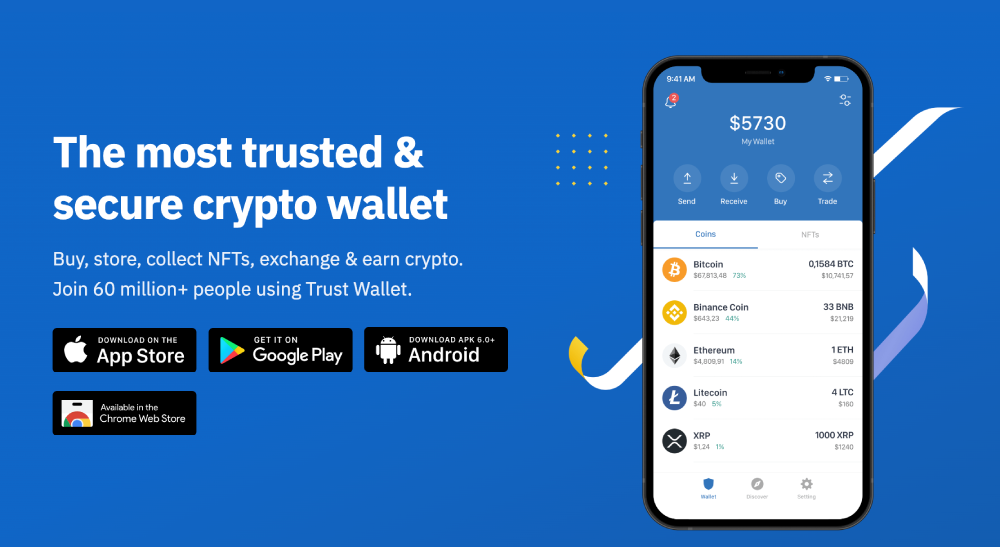 In addition to its user-friendly functionality, Trust Wallet places a strong emphasis on user privacy and security. As a non-custodial wallet, it minimizes the storage of user data, ensuring that you retain full control over your sensitive financial assets. Trust Wallet allows you to store your private keys locally on your mobile devices rather than relying on Trust Wallet's servers, further enhancing the security of your funds.
How To Withdraw Crypto From Trust Wallet?
Step 1: Open Trust Wallet
Trust Wallet is available as both a browser extension and a mobile app. The withdrawal process for cryptocurrencies remains consistent regardless of the platform. Open Trust Wallet on your preferred device and sign in to your account using a password, seed phrase, or biometric authentication. For Chrome extension users, locate and click on the blue shield icon located in the top-right corner of the browser.
Step 2: Select a Cryptocurrency
Trust Wallet conveniently displays all your stored cryptocurrencies at the top of the app or extension. Simply click the specific digital asset you wish to withdraw. To proceed with the withdrawal, click "Send", leading you to the transaction box. 
Step 3: Provide Withdrawal Details
Fill out the required withdrawal details, including the recipient's address and the amount you wish to withdraw. Select Preview at the bottom of the Trust Wallet app or extension to review the withdrawal details.
Step 4: Confirm the Transaction
Take a moment to carefully review the withdrawal preview presented. The preview page will display crucial details such as the estimated gas fee, recipient's address, and the withdrawal amount. Ensure that all information is accurate before proceeding.
Once you have verified the transaction details, proceed to confirm the transaction. 
Please note that the time required for the withdrawal process to complete can vary depending on factors such as the specific cryptocurrency and the blockchain network. Typically, the process can take anywhere from a few minutes to an hour.
Conclusion
Trust Wallet is a secure and decentralized solution designed for cryptocurrency enthusiasts seeking full control over their assets. It caters to users of all experience levels, providing a range of valuable features, including built-in cryptocurrency swaps and staking functionality. Withdrawing funds from Trust Wallet is a straightforward process, although it's important to note that direct withdrawals to a bank account are not supported. However, this minor limitation is outweighed by the enhanced security that comes with storing cryptocurrencies in a wallet rather than on an exchange.