CoinStats is a comprehensive portfolio manager enabling investors to easily and efficiently manage their entire portfolio – crypto, DeFi, and NFTs – from a single app. 
With CoinStats' API integrations, investors can seamlessly connect their exchanges and wallets to the CoinStats platform to monitor the performance of their crypto portfolio from one place.
Whether on your computer or mobile device, CoinStats' integrations enable you to stay updated on price changes, execute buy/sell orders, engage in token swapping, and even earn passive income through staking.
This guide will provide a step-by-step guide for connecting your MetaMask wallet to the CoinStats platform and effectively managing your MetaMask portfolio tracker.
The MetaMask portfolio tracker will offer you a convenient and secure way to interact with your digital assets, explore investment opportunities, and monitor your portfolio's performance all in one place.
Connecting Your MetaMask Portfolio to CoinStats
Linking your MetaMask portfolio to CoinStats is a seamless and straightforward process available on both mobile and desktop platforms. 
Follow  the instructions below to link your MetaMask web wallet to CoinStats and track all your assets in one place:
Navigate to the Portfolio Tracker tab
Click Connect Portfolio
Select MetaMask from the list of available options
You have three options to connect your MetaMask wallet:
Web Extension
Select MetaMask from the available options and click Connect. Ensure you have the MetaMask extension installed on your browser beforehand.
Once you get a notification from MetaMask; click Next to proceed.
Click Connect.
Congratulations, your Metamask wallet has successfully been connected!
Connect Manually
Select Manual from the available options
Select the chain you wish to connect
Enter the Wallet Address
Click Connect

Congratulations, your Metamask wallet has successfully been connected!
WalletConnect
Select WalletConnect from the available options and click Continue With WalletConnect.
You'll receive a QR code.
Open MetaMask on your phone, Scan the QR code and click Connect.
Congratulations, your Metamask wallet has successfully been connected!
Please note that we request solely view/read-only permissions. Rest assured that granting us view/read-only permissions does not provide us with any access to your private keys or authorize us to transfer your funds in any way. Our only intention is to provide your accurate portfolio performance and analytics. 
If you have any additional inquiries, please feel free to contact us at [email protected] We're here to assist you! 🚀
Now, let's explore how to harness the full range of Coinstats' features with your new integration.
How to Unlock the Full Power of CoinStats?
CoinStats offers a comprehensive suite of tools and features designed to optimize your cryptocurrency portfolio management.
So, whether you're looking to track your holdings across multiple exchanges, monitor market trends, or gain a deeper understanding of your portfolio's performance, harnessing the full potential of CoinStats requires a deeper understanding of its capabilities and how to leverage them effectively.
Let's dwell into the multiple features and tools to help you streamline your portfolio management, facilitate informed decision-making, and enhance your crypto experience.
Portfolio Tracking & Analytics
CoinStats Portfolio Tracker offers users a multitude of analytical tools to analyze their cryptocurrency investments. Users gain access to essential features such as Profit and Loss analysis, allowing them to assess the performance of their investments over various timeframes. Additionally, users can get valuable insights into their investment history, such as the average purchase or selling prices since the account's registration and other timely metrics. 
For premium users, CoinStats offers advanced analytics capabilities enabling users to explore metrics such as total deposits, identify the most profitable coins in their portfolio, pinpoint the largest losses incurred, and more.
CoinStats Wallet
CoinStats provides users with an integrated wallet serving as a gateway to the decentralized finance (DeFi) ecosystem. With the CoinStats Wallet, users can effortlessly buy cryptocurrencies with fiat currencies, eliminating the need for multiple platforms or exchanges. The wallet allows users to stake tokens and earn rewards. Additionally, users gain access to a wide selection of tokens, expanding their investment opportunities within the cryptocurrency market.
One of the notable features of the CoinStats Wallet is the opportunity to earn on crypto holdings. By staking stablecoins, users can potentially earn up to 20% Annual Percentage Yield (APY), providing a passive income stream for their investments. 
CoinStats' all-in-one DeFi wallet offers a convenient and user-friendly experience for managing cryptocurrency assets. By integrating key DeFi functionalities, such as buying, staking, and earning on crypto, CoinStats empowers users to fully control their digital assets within a single, intuitive platform.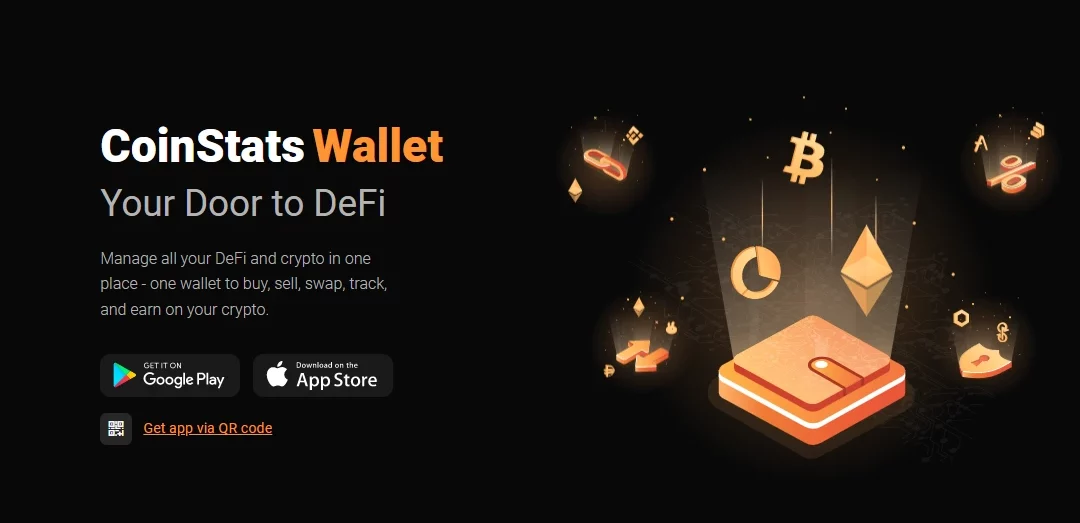 DeFi Swapping
CoinStats introduces a DeFi Swapping feature enabling users to swap tokens of equal value easily. This functionality supports token swaps for assets stored in the CoinStats Wallet or connected wallets. Leveraging its extensive network of liquidity sources, CoinStats aggregates and presents the best available swap paths across multiple chains, ensuring users benefit from optimal swap rates.
Using the DeFi Swapping feature, CoinStats users can seamlessly trade their tokens while enjoying competitive rates.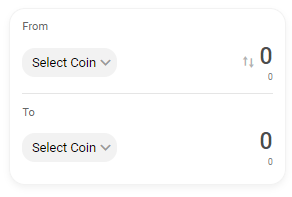 Coin Insights and CoinStats Score
CoinStats introduces valuable tools for analyzing investor sentiment, namely Coin Insights and CoinStats Score. 
Coin Insights leverages data of tracked coins within the CoinStats app. By aggregating and analyzing statistics, Coin Insights provides users with a comprehensive overview of investment decisions and sentiments within the platform. This enables users to better understand how other investors are approaching specific coins and how sentiment may be shifting over time.
CoinStats Score offers a measure of a cryptocurrency's popularity based on three key factors. Firstly, it takes into account the number of users who have marked a particular coin as their favorite, indicating a high level of interest. Secondly, the buying and selling activity surrounding the coin is considered, reflecting the trading volume and market dynamics. Lastly, the number of users who have viewed the coin and checked its details contributes to the overall score, illustrating the level of attention and engagement it has generated.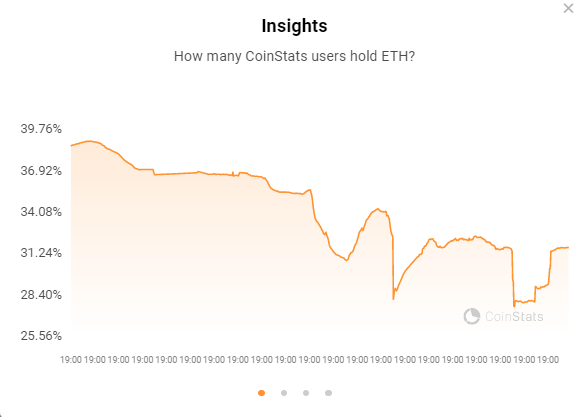 Alerts and News
CoinStats offers a powerful alert system enabling users to set personalized notifications for cryptocurrency prices and volumes. These custom alerts ensure users stay updated on the latest developments in their investments and never miss out on crucial buying or selling opportunities.
With custom alerts, CoinStats users can set specific price thresholds or volume criteria to trigger notifications. They can closely monitor their desired cryptocurrencies and take prompt action when certain conditions are met, such as a significant price increase, a sudden drop, or a specific trading volume milestone. 
CoinStats provides news segments sourced from over 30 reputable news outlets that are regularly updated to deliver the most recent and relevant news in record time. This comprehensive coverage keeps users abreast of the latest happenings in the cryptocurrency industry, helping them make informed decisions based on current market trends and insights.
CoinStats goes a step further, enabling users to customize their news feed. Users can personalize their news experience by removing or adding preferred news outlets to tailor the information they receive. This flexibility ensures that users receive news from trustworthy sources that align with their specific interests and preferences. 
CoinStats Widgets
Widgets are highly valuable tools, enabling users to conveniently monitor market and portfolio updates without even needing to open the CoinStats app. CoinStats recognizes the significance of widgets and offers robust support across multiple platforms.
By offering widget support across Android, iOS, and Apple Watch devices, CoinStats empowers users to effortlessly stay connected with their investments and the cryptocurrency market. These widgets provide quick and accessible information, enhancing the overall user experience and allowing for convenient monitoring of portfolios and market trends.
NFT Tracking
CoinStats has introduced a remarkable feature that caters to the management of NFT (Non-Fungible Token) collections. With this feature, users can conveniently browse their NFT portfolios, facilitating a streamlined experience for identifying valuable digital tokens.
Additionally, CoinStats offers a real-time feed that provides up-to-date information on the prices of NFTs. This live feed ensures that collectors and investors stay informed about the latest market trends and price movements in the ever-evolving NFT market. 
With CoinStats' NFT management feature and real-time price feed, users gain a comprehensive and convenient solution for managing their NFT collections. 
CoinStats Midas
CoinStats Midas is a data-powered smart alert tool designed to enhance users' NFT investment strategies. Leveraging the power of data analysis, this tool examines NFT purchasing activity and identifies the top-performing wallets over a specific period that users can follow in real-time.
By utilizing an advanced algorithm, CoinStats aggregates NFT buying activity from various sources, enabling users to stay ahead of the market. 
With CoinStats Midas, users can access real-time insights into NFT purchasing activity, identify top-performing wallets, and leverage data to inform their own investment strategies. 
CoinStats Rewards
CoinStats introduces an exciting rewards program incentivizing users to explore the platform and engage in various quests. By completing tasks such as referring friends or following CoinStats on Twitter, users earn Sparks, a digital currency that can be redeemed for a range of enticing rewards.
The rewards available through CoinStats' program encompass a diverse selection of offerings. Users can utilize their Sparks to unlock special discounts on services, acquire exclusive Non-Fungible Tokens (NFTs), and unlock Premium membership perks to gain access to advanced features, enhanced analytics, and additional benefits that amplify their portfolio management capabilities.
CoinStats Earn
CoinStats Earn enables users to stake their cryptocurrency assets and earn passive income. Through CoinStats' handpicked list of protocols, users can participate in staking and potentially earn up to an impressive 20% Annual Percentage Yield (APY).
The CoinStats Earn feature provides users with a convenient and hassle-free method to engage in staking and start earning rewards. CoinStats' selection of protocols ensures that users can access reliable and secure staking options, mitigating potential risks associated with the staking process.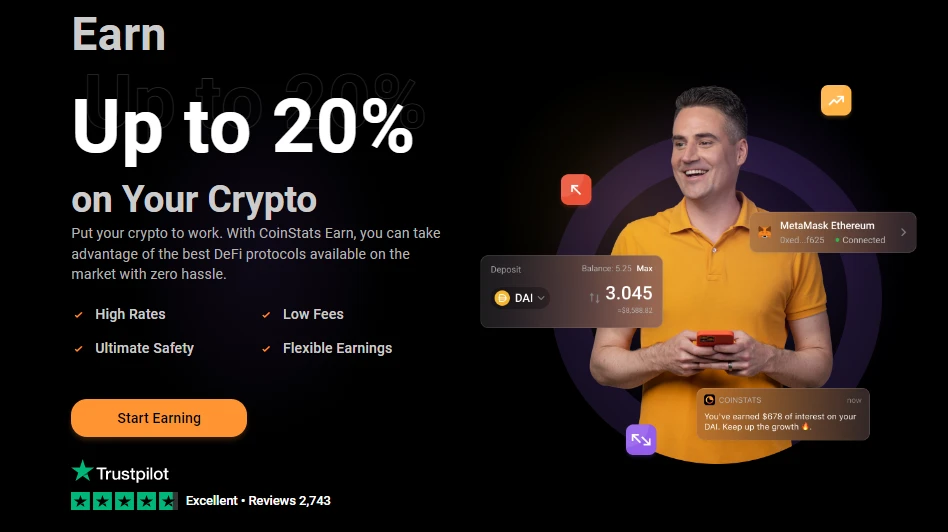 Final Words
In conclusion, CoinStats provides a comprehensive, user-friendly solution for managing your entire cryptocurrency portfolio from one place. With its intuitive interface and powerful portfolio tracking capabilities, you can effortlessly gain valuable insights into your portfolio's performance and make well-informed decisions for future investments.
One of the standout features of CoinStats is its extensive integration with over 300 wallets and crypto exchanges, including MetaMask and renowned platforms like Coinbase, Bitget, and Bitfinex. This seamless integration ensures you can conveniently track and manage your holdings across multiple platforms and wallets, all from the CoinStats platform.
Whether you're a beginner or an experienced investor, CoinStats caters to users of all levels. With CoinStats by your side, you can efficiently manage and optimize your cryptocurrency portfolio and navigate the dynamic crypto market with confidence. 
Rosie is a worldly woman that loves all the forms that value takes, from crypto and gold to time and attention. Devouring New York Times bestsellers over coffee with milk instead of breakfast, she is constantly plotting to take over the financial world. If you're not careful, she'll network with you over golf that she pretends to like.