Blockchain technology and Web 3 elements, such as interactive games, Fan Tokens, NFT collectibles, etc., have made the FIFA World Cup Qatar 2022 event special. The world's most famous football teams, including Manchester City, Barcelona, Flamengo, Paris Saint-Germain, AS Roma, Atletico Madrid, Juventus, Galatasaray, Inter Milan, Arsenal, FC Porto, Corinthians, the Brazil National Football Team, the Portugal National Team, etc., have launched Fan Tokens, a new method for sports enthusiasts to connect with their favorite clubs and players.
Fan Tokens are digital assets that empower fans to get more deeply involved with their preferred team and create new sponsorship opportunities for sports clubs. A Fan Token allows fans to access exclusive rewards and limited NFT collections, match tickets, promotional meet and greet events, and special merchandise and grants them voting rights. Investors worldwide invest in their favorite clubs to demonstrate their support for them and gain access to rewards, benefits, and money-can't-buy experiences. While Fan Tokens are still relatively new, they're quickly establishing themselves as the future of the sports economy.
One such token is the Spain National Fan Token (SNFT), and today we're bringing you a detailed guide on SNFT Fan Tokens and a quick tutorial on how to buy Spain National Fan Token (SNFT) in a few steps.
Key Takeaways
The Spain National Football Team Fan Token (SNFT) is a BRC-20 smart contract built on Bitcichain. It was created to empower fans to get more deeply involved with their preferred football club, Spain National Football Team.
SNFT Fan Token offers numerous ways for fans to interact with the team, such as limited collections, integration with the Bitci NFT Marketplace, interactive team rewards, special fan privileges, voting rights, exclusive brand experiences, and gamification.
In the past three months, SNFT has been up 512.29% and is available on an increasing number of platforms.
Let's get right to it!
What Is Spain National Football Team Token?
The Spain National Football Team Token (SNFT) is the official Fan Token for the Spain National Football Team. The Spain National Football Team has represented Spain in international men's football competitions since 1920. It has participated in a total of 16 of 22 FIFA World Cups and is one of only eight countries ever to have won the FIFA World Cup.
The SNFT Token is aimed to deliver a privileged fan experience for the Spain football club fans by allowing holders to participate in exclusive meet-and-greet events and surveys, get exclusive rewards, discounts, limited NFT collections, and match tickets, earn loyalty rewards, and vote on club decisions.
The Spain National Football Team Fan Token is a BRC-20 smart contract built on Bitcichain. SNFT Token allows fans to participate in exclusive surveys and events, access exclusive rewards and limited NFT collections, and enjoy gamification features, fan incentives, and unique experiences. By being incorporated into the future ecosystem of the Spanish Federation, SNFT also provides an E-Commerce opportunity. It enables voting, donation, and access to exclusive videos, among other things. SNFT Fan Token strengthens the bond between the team and fans by providing fans with new opportunities to interact and grow with their favorite team.
SNFT Use Cases
Spain National Football Team Fan Token (SNFT) has the following use cases:
E-Commerce
SNFT Token can be used as payment for shopping payments, products, tickets, memberships, etc., via BitciPay or FanApp in the Spanish Football Federation's potential future e-commerce ecosystem.
Games and Quests
SNFT Token holders have access to various missions and gamification features on the Bitci Fan Token Platform.
Loyalty Subscription
SNFT Token holders can spend their tokens to get fan prizes, digital collectibles, loyalty points, and more.
Donation
SNFT Token holders can donate directly to their favorite team and receive a loyalty badge or NFT in exchange.
Survey and Events
SNFT Token holders can participate in Paid and Free Surveys and Events on the Bitci Fan Token Platform.
Advantages
SNFT Token holders interact with the Spanish National Football Team on the Bitci Fan Token Platform to meet and greet the Players or Legends, make one-on-one phone calls, access the locker room, watch matches in VIP areas and get signed and limited edition products. Benefits are available for collectors, among other things.
SNFT Tokenmics
The SNFT Token provides Spain National Football Team fans greater accessibility, functionality, and lower transaction fees.
SNFT was traded for the first time on October 6, 2021. SNFT Token has a total supply of 99,285,000 and a circulating supply of 24,285,000 tokens. Check the SNFT current price, 24-hour trading volume, fully diluted market cap, and other data, and get real-time updates on SNFT USD price on CoinStats, one of the best platforms around.
Token Utility
The Spain National Football Team Token offers numerous ways for fans to interact with the team, such as limited collections, integration with the Bitci NFT Marketplace, interactive team rewards, special fan privileges, voting rights, exclusive brand experiences, and gamification.
Token Name – SNFT
SNFT Pre-Sale Amount – 25,000,000 SNFTs
Market Listing Quantity in Circulation – 25,000,000 SNFTs (25%)
SNFT Pre-Sale Price – 0.5 EURO / SNFT
Bitci Pre-Sale – 25.00% over Total Pieces
Set – 75.00% over Total Pieces
Pro-Tip
SNFT Tokens under the team's control will be made accessible 365 days after the offer period upon the team's request.
How to Buy SNFT Token?
Interested in buying the SNFT coin? Follow the instructions below to purchase SNFT in a few simple steps.
Step #1: Select a Crypto Exchange
SNFT tokens are accessible on an increasing number of cryptocurrency exchanges, including:
Visit the market page on CoinStats to view the exchange platforms supporting SNFT. Compare the exchanges' security, user experience, fee structure, supported cryptocurrencies, etc., to choose the one with the features you want, such as low transaction fees, top-notch security, large trading volume, an intuitive interface, round-the-clock customer service, etc. Consider if the cryptocurrency exchange is licensed by the Financial Industry Regulatory Authority (FINRA) and allows you to buy digital coins using your preferred payment method.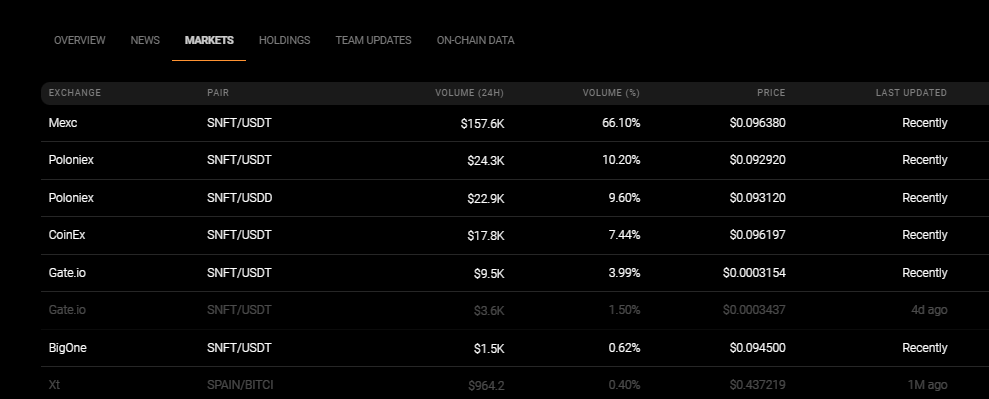 In the crypto world, any trader is confronted with the initial choice between centralized and decentralized crypto exchanges, so let's look into the details of each type below.
Centralized Exchange
A centralized crypto exchange or CEX, such as Coinbase, eToro, Binance, etc., is governed by a centralized system and charges specific fees for using their services. Most crypto trading takes place on centralized exchanges, allowing users to convert their fiat currency directly into crypto easily. Centralized exchanges require users to follow KYC (know your customer) and AML (anti-money laundering) rules by providing information and personal identification documents. However, a CEX holds your digital assets on its platform while trades go through – raising the risk of hackers stealing the assets.
Decentralized Exchange
On the other hand, a decentralized exchange (DEX), like Uniswap, SushiSwap, Shibaswap, etc., is not governed by any central authority; instead, it operates over blockchain and charges no fee except for the gas fee applicable on a particular blockchain, i.e., on the Ethereum blockchain. Decentralized exchanges use smart contracts to let people trade crypto assets without needing regulatory authority. They deploy an automated market maker to remove intermediaries and give users complete control over their funds. Decentralized exchanges are less user-friendly in terms of interface and currency conversion. For instance, they don't always allow users to deposit fiat currency in exchange for crypto; users have to either already own crypto or use a centralized exchange to get crypto. It also takes longer to find someone looking to trade with you as DEX engages in peer-to-peer trade, and if liquidity is low, you may have to accept concessions on price and quickly sell or buy low-volume crypto.
Step #2: Create an Account
After you've decided on a cryptocurrency exchange that meets your investment needs, you must register with the exchange by providing a legitimate email address or cell phone number. You will receive an email with a link that you must click to authenticate your account. Once the account has been activated, you must generate a complex password before you may use it.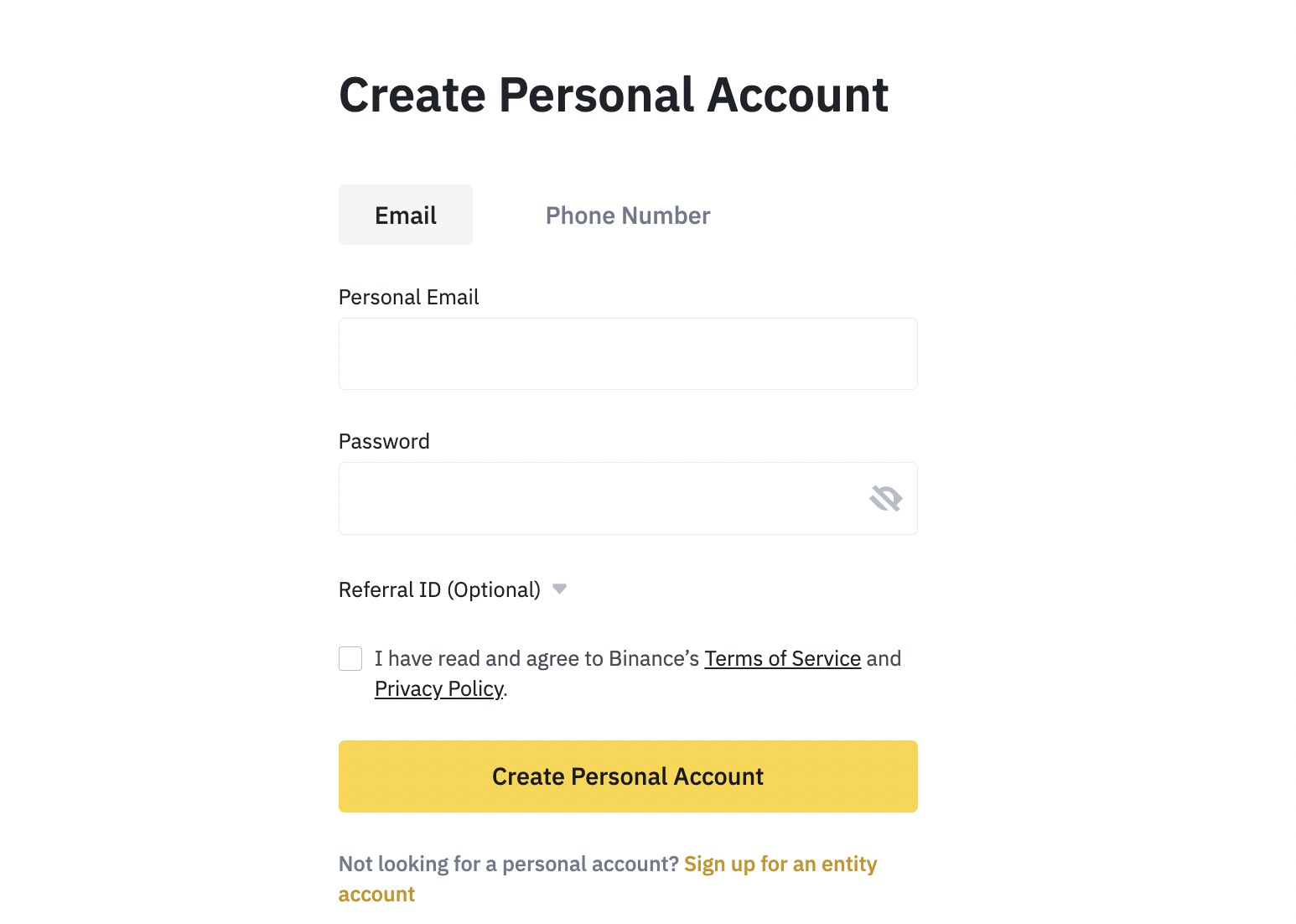 Some exchanges have stringent KYC and AML standards, and you must supply personal information such as:
Full name
Residential address
Date of Birth
ID Document. 
To complete the process, you may also be required to upload a selfie or go through video verification.
Once your identity has been verified, it is recommended to enable two-factor authentication (2FA) to add an extra layer of security.
Step #3: Deposit Funds
The next step is to fund your account. Many cryptocurrency exchanges accept fiat currencies such as USD, EUR, etc. Simply choose your desired deposit method, such as a bank transfer, wire transfer, credit or debit card, e-wallet, PayPal, etc., as well as the currency you want to deposit. Tap "Deposit Funds," enter the amount you wish to deposit, and then click "Deposit."
Some deposit methods are extremely fast, while others require a confirmation from authorities, depending on the amount. Remember to compare the fees associated with various deposit methods, as some have higher fees than others.
Linking your debit card to your cryptocurrency account is helpful since it allows you to make quick or regular transactions, but note that it incurs an extra fee.
Bank transfers from your local bank accounts are usually free, but you should double-check with your exchange.
Step #4: Buy SNFT
To buy SNFT at the current price, use the following steps:
Go to your crypto exchange, enter SNFT in the search field, and click "Buy SNFT" or the equivalent.
Choose a trading pair you wish to buy SNFT against. 
Choose a payment method, a currency, and enter the amount of SNFT or fiat currency to be spent. Most exchanges will convert the amount automatically to show you how many SNFT tokens you'll receive.
Recheck the transaction information before clicking "Confirm."
Once the transaction is processed, the SNFT tokens will be displayed in your balance. 
Go to the Trade page and search for the SNFT pairs (SNFT/USD or SNFT/USDT) to trade SNFT on spot markets. Choose a trading pair and check the SNFT price chart. Click "Buy SNFT" and select the "Market." Enter your amount or select a deposit percentage by clicking the percentage buttons. Confirm the transaction by clicking "Buy SNFT."
Congratulations on adding SNFT tokens to your crypto portfolio! 
Step #5 (Optional): Store SNFT
While your SRM tokens can be stored in your brokerage exchange wallet, experts highly recommend storing your precious coins away from exchange wallets, as those might be susceptible to hacks and interference. 
We highly recommend creating a private wallet with your own set of keys. Depending on your investing preferences, you might choose between software and hardware wallets: 
Software Wallets
If you're planning to trade SRM regularly, software or hot wallets provided by your selected crypto exchange will suit you. The strength of software wallets lies in their flexibility and ease of use. Available for download as a Chrome extension and as a mobile app, a software wallet is the most easy-to-set-up crypto wallet and lets you easily interact with several decentralized finance (DeFi) applications. However, these wallets are vulnerable to security leaks because they're hosted online. So, to keep your private keys in a software wallet, conduct due diligence before choosing one to avoid security issues. We recommend a platform that offers 2-factor authentication as an extra layer of security.
Examples of software wallets include CoinStats Wallet, MetaMask, Coinbase Wallet, Trust Wallet, and Edge Wallet, amongst others.
Hardware Wallets
Hardware or cold wallets are usually considered the safest way to store your cryptocurrencies as they offer offline storage, thereby significantly reducing the risks of a hack. They are secured by a pin and will erase all information after many failed attempts, preventing physical theft. Hardware wallets also let you sign and confirm transactions on the blockchain, giving you an extra layer of protection against cyber attacks. These are more suitable for experienced users who own large amounts of tokens.
Ledger hardware wallets are arguably the most secure, letting you securely manage your digital assets. The Nano X is designed for advanced users and offers more storage space and advanced features than Ledger Nano S,  designed for crypto beginners.
Examples of cold wallets are Trezor Model T, Ledger Nano X, CoolWallet Pro, KeepKey, Ellipal Titan, and SafePal S1, amongst others. 
Step #6 (Bonus Step): Track SNFT Tokens
The crypto market is volatile, and managing your portfolio could get tricky if you hold multiple assets. Utilizing a portfolio tracker will help you keep track of the real-time performance of your SNFT tokens and all your crypto investments from one platform at all times. CoinStats Portfolio Tracker enables you to monitor the profit, loss, and liquidity across several exchanges.
You can also monitor the profit, loss, and liquidity of Spain National Football Team Token across several exchanges on CoinStats.
CoinStats supports over 250 cryptocurrency exchanges and over 7,000 cryptocurrencies. It offers charting tools, analytical data, advanced search features, and up-to-date news. Here you have the opportunity to connect an unlimited number of portfolios (wallets and exchanges), including:
Binance
MetaMask
Trust Wallet
Coinbase
Kraken
Kucoin
Bitstamp and 500 others. 
To connect, go to the CoinStats Portfolio Tracker page and:
Click Add Portfolio and Connect Wallet.
Click the wallet you want to connect to (e.g., Ethereum Wallet).
Input the wallet address and press Submit.
FAQs
Where can I trade my Spain National Football Team Fan Token?
Spain National Football Team Fan Token is available for trading on MEXC Global, BigONE, Bitci, etc. The market's most popular trading pairs for the Spain National Football Team Fan Token are SNFT/GBP, SNFT/USD, SNFT/CAD, SNFT/INR, SNFT/AUD, and SNFT/PHP.
What is Spain National Football Team Fan Token's highest price?
The price of the Spain National Football Team Fan Token reached its all-time high of $0.778356 on October 02, 2022.
What is Spain National Football Team Fan Token's lowest price?
The price of the Spain National Football Team Fan Token was at its all-time low of $0.047514 on July 31, 2022.
Can I Buy SNFT with Cash?
There is no direct method to purchase SNFT with cash. You can, however, use markets like LocalBitcoins to first acquire USDT and then complete the remaining processes by moving your USDT to various AltCoin exchanges.
LocalBitcoins is a Bitcoin exchange that works on a peer-to-peer basis. It is a cryptocurrency trading platform where users may buy and sell Bitcoins through advertisements that include the price and payment method they wish to provide. You can use the platform to buy from sellers in a nearby region. While it's a good place to buy Bitcoins when you can't find your preferred payment method elsewhere, prices on this platform are usually higher, and you must beware of scams.
Closing Thoughts
FIFA World Cup has brought excitement to the Football Fan Tokens.
SNFT has been up 512.29% in the past three months, despite its very modest market capitalization. While SNFT price can be more volatile during strong market swings compared to companies with greater market caps, with a consistent rise over these months, SNFT has the potential to raise much higher and provide excellent returns. Once again, traders should exercise extreme caution while investing in crypto at all times.
You can also visit our blog for more information about wallets, crypto exchanges, buying guides, and tokens, such as "What are Fan Tokens", "Top 10 Fan Tokens to Invest in 2022" and many others.
Investment Advice Disclaimer
This content, including any information contained therein, is provided to you solely for informational purposes and does not constitute a recommendation by CoinStats to buy, sell, or hold any security, financial product, or instrument mentioned in the content, nor does it constitute investment advice, financial advice, trading advice, or any other type of advice. Past performance is not a reliable indicator of future performance. When it comes to buying crypto, the value of your investment can go down as well as up, and you may not get back the amount you invested.
Cryptocurrency prices are highly volatile; do your independent research, obtain your own advice, and only invest what you can afford to lose. You should carefully consider your investment experience, financial situation, objectives, and risk tolerance and consult an independent financial adviser before making any investment. There are significant risks involved in trading CFDs, stocks, and cryptocurrencies. Between 74-89% of retail investor accounts lose money when trading CFDs. You should also verify the nature of any product or service (including its legal status and relevant regulatory requirements) and consult the relevant regulators' websites before making any decision.