Bkex Pros
Low Trading Fees and No Deposit Fees

Mobile Apps Available

24/7 Support via Online Chat Service

Two-Factor Authentication

A Wide Range of Supported Cryptocurrencies

A Wide Range of Trading options – Spot, ETP, Financial, Smart Pool, and Derivatives Trading
Bkex Cons
US Residents Are Not Permitted

Limited Withdrawals

Without KYC, You Can't Withdraw More Than 2BTC.
BKEX, a global crypto-asset financial exchange, was founded in the British Virgin Islands in 2018. It focuses on the acquisition and mining of high-quality digital assets and provides an innovative global station, as well as investment and trading services across a wide range of cryptocurrencies.
The exchange provides services in over 100 countries. In addition to cryptocurrency trading, BKEX also provides derivatives trading, spot trading, financial services for mining pools, ETP with continuous leverage, and many other services. The BKEX Seed Incubator Pro promotes the development of the crypto and Blockchain industry and provides better financial services for high-quality projects and blockchain entrepreneurship.
In this BKEX review, we'll dive deep into the BKEX exchange, exploring the exchange's key features, supported services, fee structure, and more to help you decide if it's a good exchange for you.
Let's dig deeper to learn more about this crypto trading platform.
What Is BKEX
BKEX is an innovative digital asset trading platform for professional traders worldwide, offering more choices of blockchain technology and a wide range of digital assets. BKEX advertises itself as the first 'sunshine trading' platform, meaning the exchange gets monitored and audited by an external company to avoid misdoings.
BKEX offers several additional features and services, including spot trading, OTC services, leveraged ETP products, staking and crypto loans with a term of up to 180 days, multi-signature cold wallets, and 23 mining pools.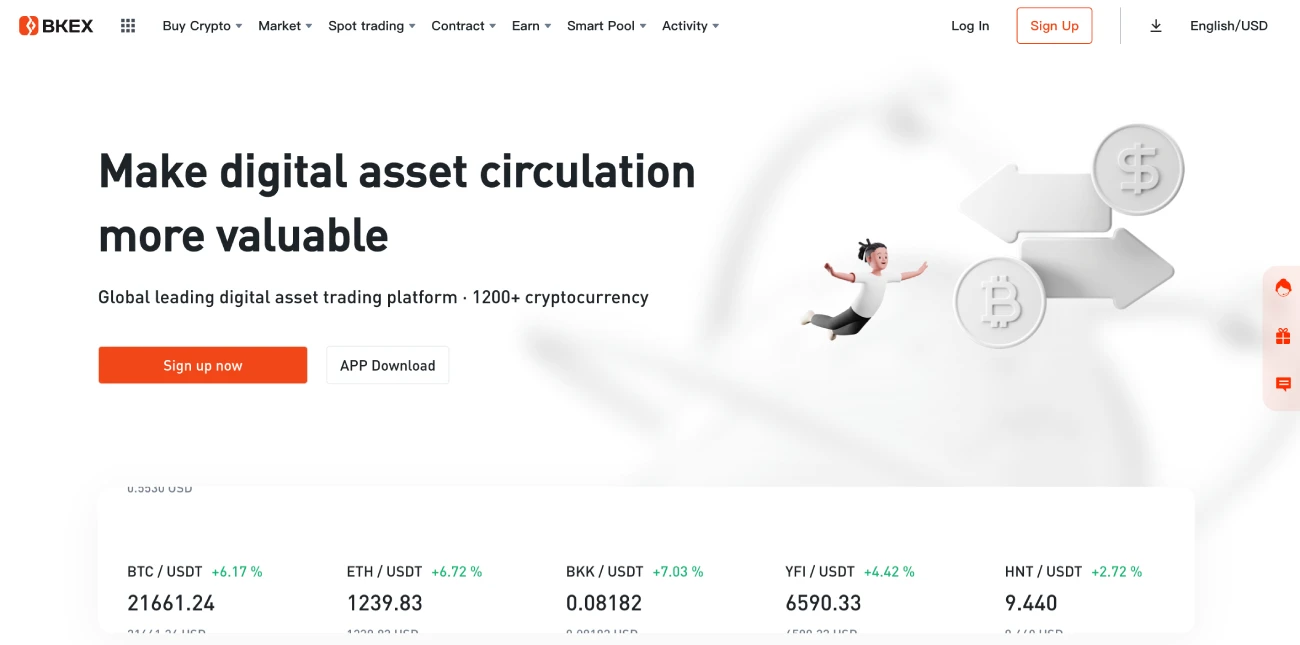 How Does BKEX Work
Users must create an account on the BKEX exchange.
Once the account is set up, users can easily buy, sell, or swap supported cryptocurrencies.
BKEX accepts deposits in fiat currency. Cryptocurrency traders can fund their accounts by depositing fiat money. Deposits in fiat currency can only be processed through wire transfer.
Traders can also use cryptocurrency from their digital wallets to fund their BKEX accounts.
The user-friendly trading view shows the order book or part of the order book, a price chart of the chosen cryptocurrency, and order history. Users can search for various crypto-token buy and sell prices.
BKEX Key Features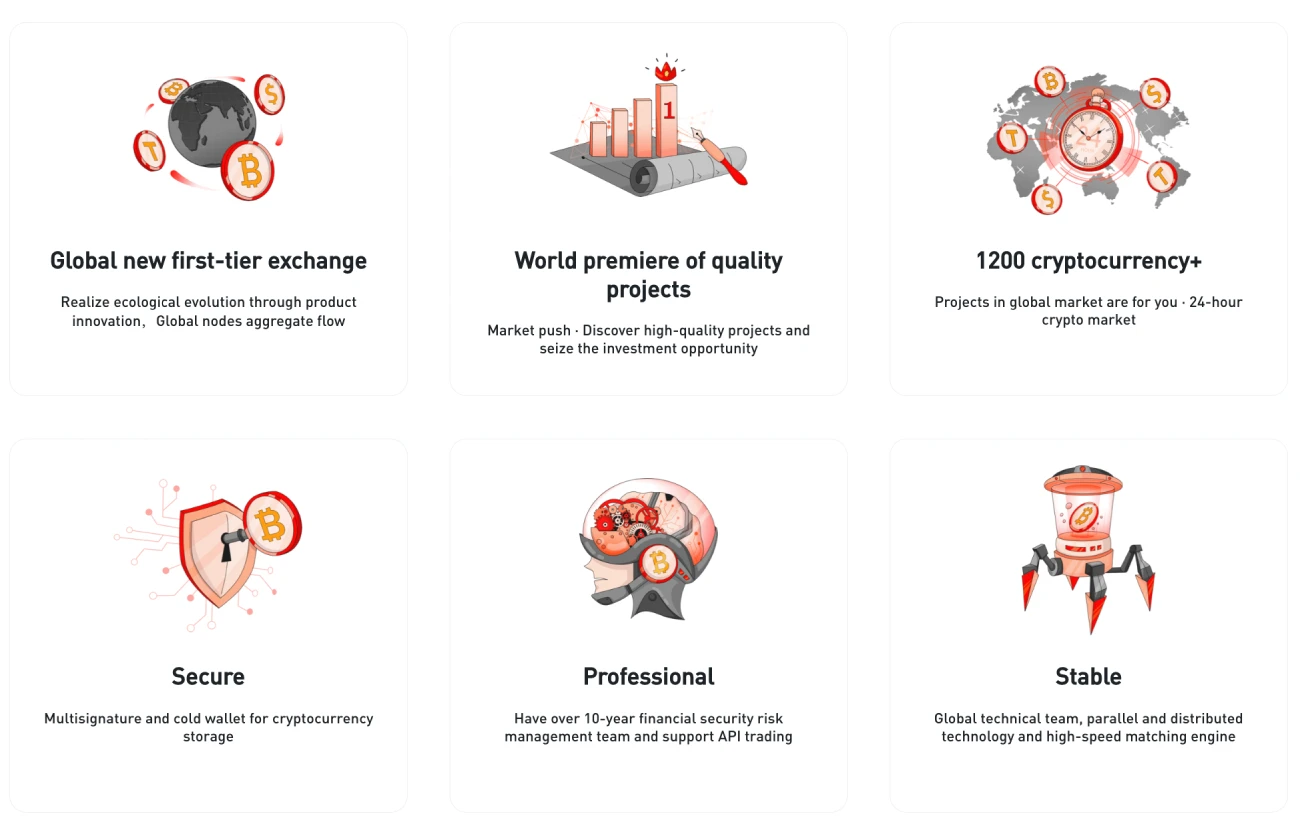 BKEX describes itself as a sunshine trading platform, meaning the exchange gets monitored and audited by an external company.
BKEX uses cold-storage wallets with multi-signature authentication.
BKEX claims to be highly stable due to its high-speed matching engine.
BKEX claims to have access to large liquidity pools.
BKEX has a professional technical support team with years of expertise.
The BKEX exchange also includes mobile apps for Android and iOS.
BKEX employs a separation technology that separates cold wallets from hot wallets.
The BKEX exchange provides both quasi-real-time and real-time risk control systems.
BKEX is a global exchange that provides over-the-counter (OTC) trading in both fiat currencies such as Thai Baht (THB), GBP, EUR, AUD, USD, RUB, etc., and cryptocurrencies like USDT, BTC, ETH, LTC, etc. It supports over 1000 trading pairs.
BKEX supports several trading options such as spot trading, OTC services, and leveraged ETP products.
BKEX offers a competent and efficient customer support team available 24/7.
BKEX aims to attain long-term strategic collaboration with SlowMist and other leading security companies worldwide.
Services Offered by BKEX
Spot Trading
BKEX provided spot trading services with over 1000+ currency pairings, including 700+ USDT pairs, 20+ BTC pairs, and 10+ ETH pairs.
Contract Trading
BKEX contract trading covers almost 600 contract masters worldwide. The available tradeable currencies are BTC, XRP, ETH, LINK, LTC, BCH, FIL, EOS, DOT, UNI, DOGE, and SHIB. BKEX contract trading is two-way, allowing investors to modify their profit or stop-loss prices.
Smart Pool
BKEX's Smart Pool offers regular mining, flexible mining, current mining, and new coin mining. With a single click, traders can enjoy mining finances and generate huge profits.
Regular Mining – BKEX offers substantial gains, and the exchange is now running its 8th Round with an APY up to 35%. The mining currencies for the 8th Round include USDT, EOS, FIL, BTC, ETH, LTC, and DOT.
Flexible Mining – It entails flexible transfers, revenue appreciation, and simple mining operations with 13 pools, including USDT, SQUID, DOT,  LTC, BTC, ETH, etc.
Current Mining – It enables flexible transfers in and out of the exchange. It entails coin-standard mining with 22 pools, including BTC, UST, USDT, EOS, ETH, DOT, etc.
New Coin Mining – It enables users to mine premium cryptocurrency.
Staking
BKEX is a reliable exchange that provides one-click staking, easy mining, and versatile unlocking. Users can stake in the following currencies – BRG, SHIELD, MILO, LQR, CMCX, and DOT.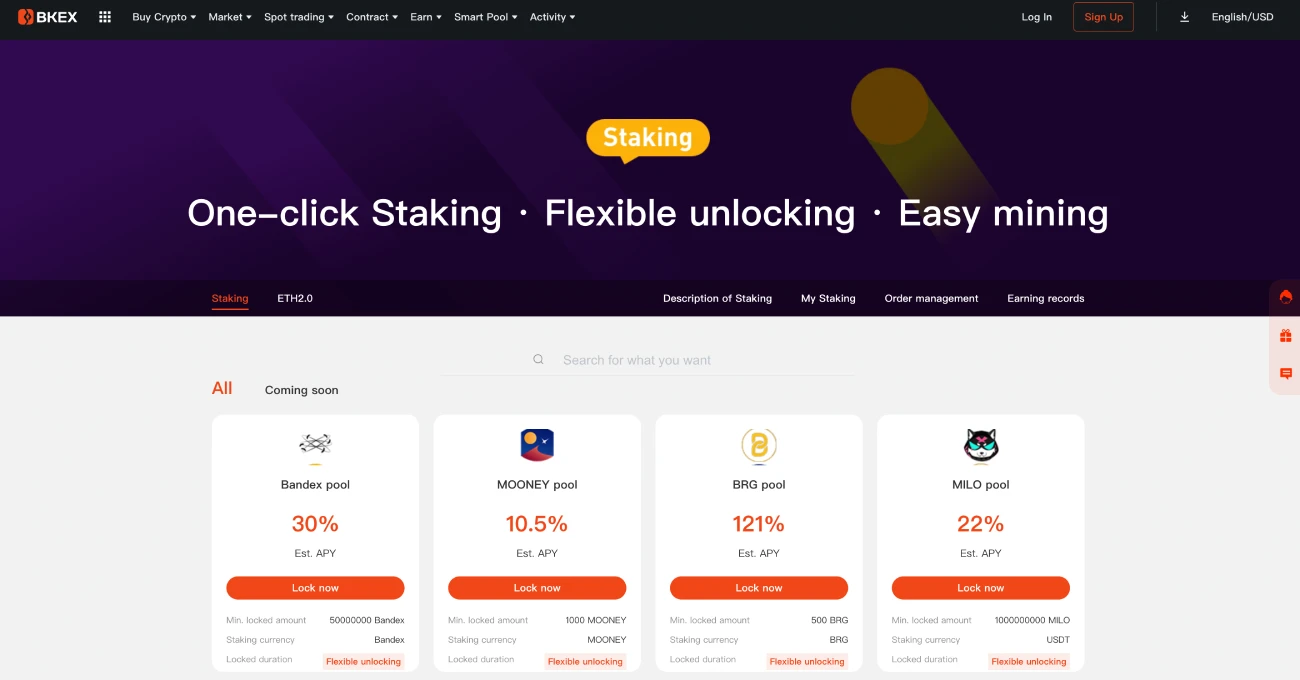 ETH 2.0
BKEX has recently introduced ETH 2.0, which offers an exceptionally low threshold, substantial profits with an APY of up to 20%, no staking risk, and high liquidity that will allow users to engage and exit anytime. It should be noted that tokens obtained through unlocking can be used for further trading by users.
Hashrate Mining
BKEX Hashrate mining is a cloud mining service with simplified mining operations, particularly for new miners. It has already delivered multiple phases of YH IPFS Super Mining Service and Chia Cloud Mining Service purchase.
Seed Incubator Pro

BKEX Seed Incubator Pro provides subscription services for high-quality cryptocurrency. It fosters the development of the crypto and Blockchain industry while also providing financial services for top-notch projects and blockchain entrepreneurship. It picks high-quality proposals, thoroughly evaluates, and also disqualifies those that breach the rules set by BKEX Global and Seed Incubator.
BKK Buyback and Burning Records
The BKEX exchange spends over 70% of its handling fee on re-purchasing and burning BKK records. At the moment, the burning cycle occurs weekly.
BKEX New Sheik Plan
BKEX has introduced the New Sheik Plan, which lets users join the plan and receive discounts of up to 50% on BKK purchases and hefty commissions on spot trading and Super Contract handling fees. Additionally, it provides Sheik members with a range of special gifts as well as VIP privileges and rights.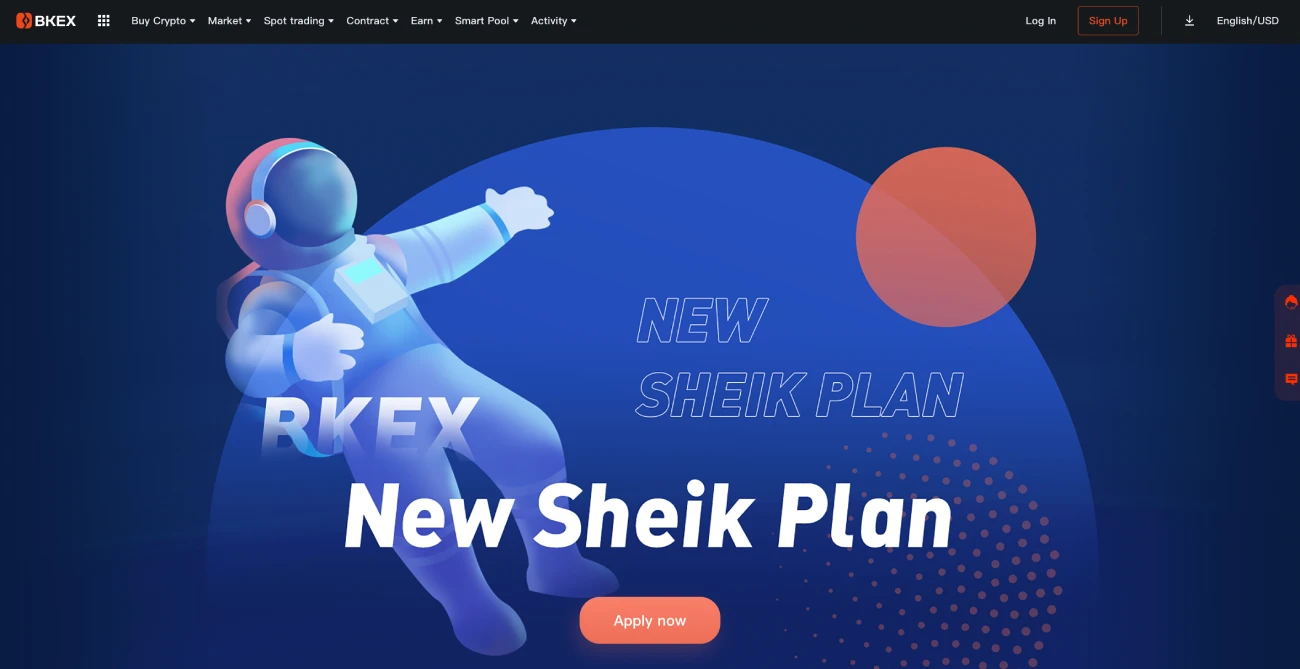 BKEX Perpetual Swap Contract
The BKEX Perpetual Swap Contract includes the following features:
A double set price mechanism that makes it more difficult to manipulate prices.
It is based on spot market pricing.
It offers variable leverage with a maximum leverage of 100x.
It has an automated position reduction system to protect traders' interests.
Leveraged Trading
The BKEX trading platform supports leveraged trading. However, a word of warning may be helpful for those considering leveraged trading. Leveraged trading can result in massive returns but also to equally massive losses.
For instance, suppose you have $10,000 in your trading account, and you place a $100 long bet on Bitcoin (i.e., increasing in value) with a 100x leverage. If BTC increases in value by 10%, you gain $1,000. In effect, using leverage while trading is the same as borrowing money from someone and betting that money on whether the relevant cryptocurrency will rise or fall.
On the other hand, if the value of BTC drops by 10%, you lose $1,000.
BKEX Account Registration Process
To register on BKEX, you must provide your email address or phone number and create a strong password. The minimum deposit is only $1.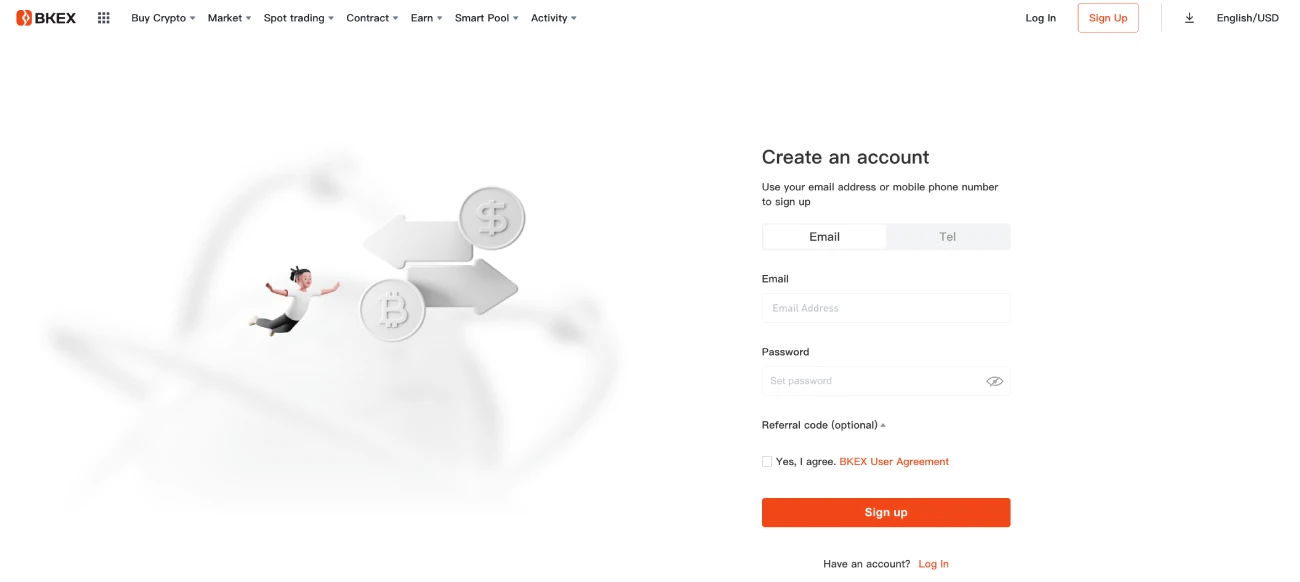 In contrast to other centralized trading platforms, BKEX doesn't require KYC verification, and you can trade, deposit, and withdraw without getting verified. However, there are some limitations, such as you can't participate in Seed Incubator Pro or withdraw more than 2 BTC in 24 hours.
For the Basic Identity Authentication step of the KYC process, you must submit personal information and photocopies of your IDs for verification. For the Advanced Real Name Authentication step, you must submit a photo of yourself holding the ID. The verification process will be completed within 48 hours.
You will then get a confirmation code to your phone/email address, which you must enter. Now you can sign in to your account, deposit funds, and start trading.
BKEX Fees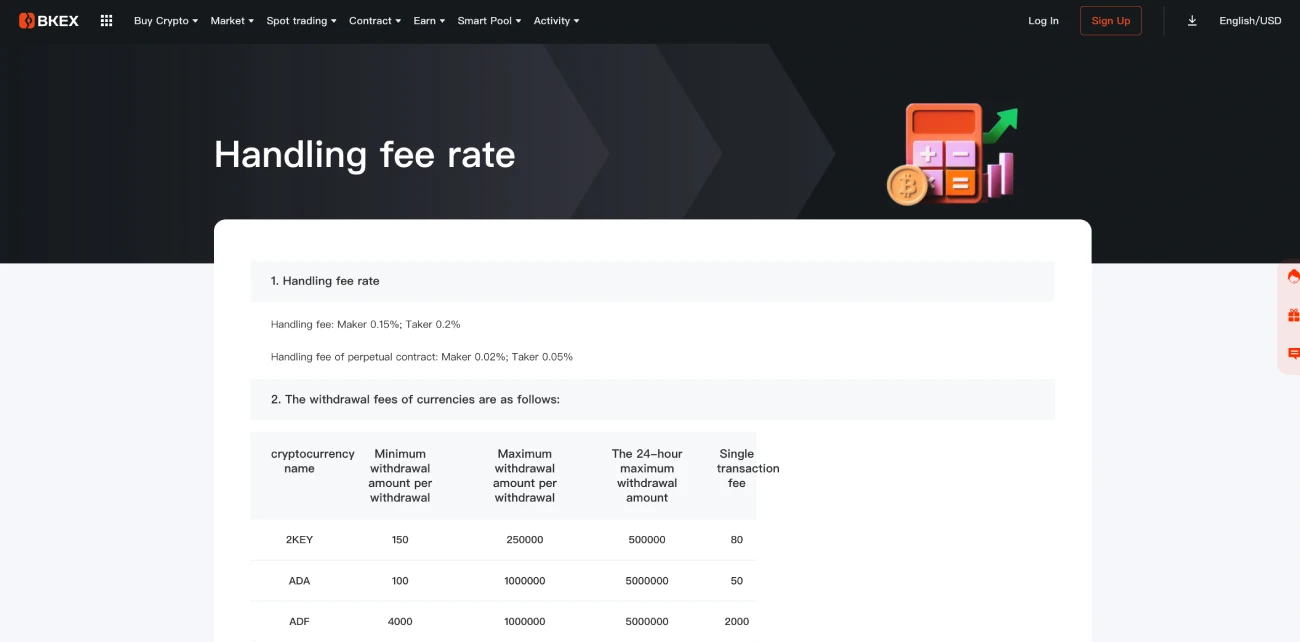 The BKEX trading fees or handling fees are typically moderate and in line with industry standards.
Generally, the maker fee is 0.15%, while the taker fee is 0.05%.
For perpetual contracts, the maker fee is 0.02%, while the taker fee is 0.05%.
There are zero deposit fees on the platform.
The withdrawal fees on BKEX vary depending on the cryptocurrency. The withdrawal fee for a single transaction for BTC (Bitcoin) is 0.0008, while the withdrawal fee for BCH (Bitcoin Cash) is 0.0001. Click here for more information about the BKEX fee structure.
Countries & Currencies Supported by BKEX
The BKEX exchange supports a wide range of cryptocurrencies, including all well-known digital coins and tokens. The platform is accessible in multiple languages, including English, and is supported by several international marketplaces.
BKEX Token (BKK) Details
BKEX crypto exchange provides a native crypto token, BKK, allowing users to trade at BKEX. BKK holders get a 25% handling fee discount while trading on the platform.
BKEX Review: Security & Privacy
The BKEX website promotes itself as a platform with advanced security features such as offline multi-signature cold storage to safeguard against digital theft.
For perpetual contracts, BKEX has implemented an unusual price protection mechanism. Users will be compensated if they trade at irregular prices and in case of extraordinary market circumstances.
BKEX Mobile App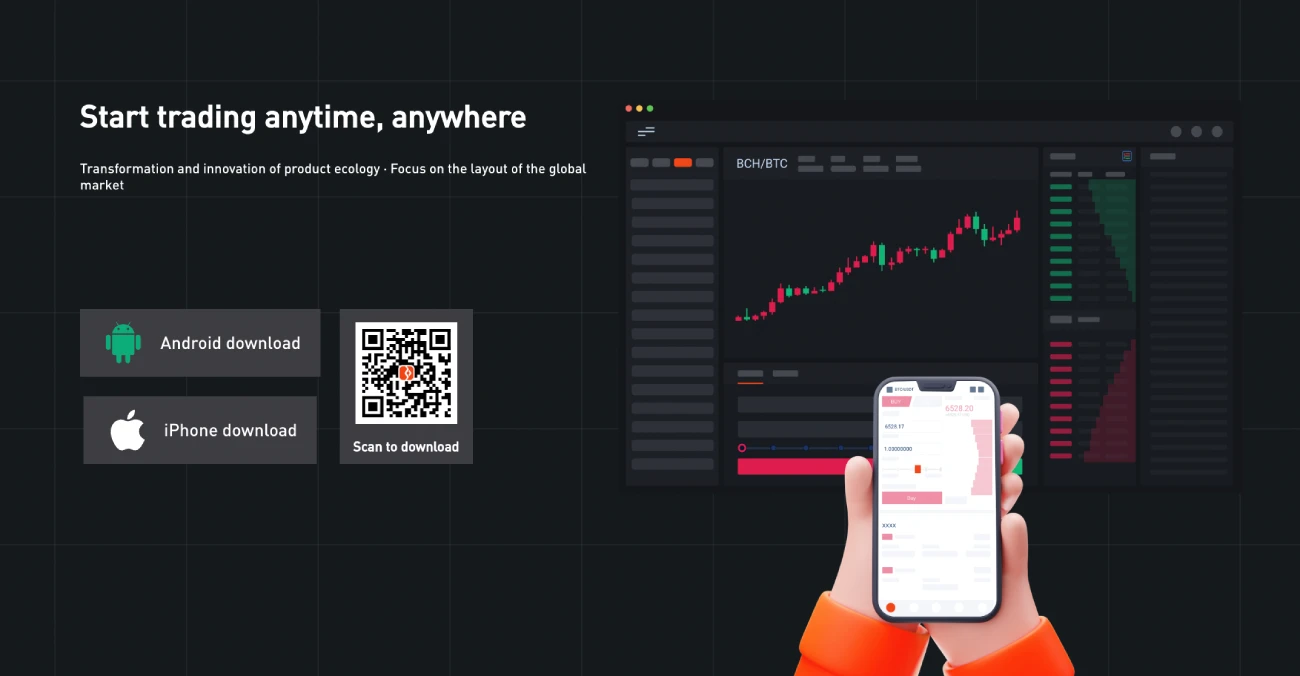 The exchange offers apps for both iOS and Android platforms, enabling users to trade on the go. This allows clients to use the platform at their own convenience.
BKEX Exchange Review: Customer Support
Customers facing any difficulty trading or completing transactions on BKEX can report the issue by raising a token from its customer care page. BKEX information is also available on many social media platforms such as Twitter, Telegram, Reddit, Snapchat, LinkedIn, etc.
BKEX Exchange offers 24/7 multilingual customer support.
Closing Thoughts
BKEX is an excellent alternative for non-US advanced traders wanting to trade significant amounts of cryptocurrencies. What sets the BKEX exchange apart from most other exchanges are its additional services, such as spot trading, leveraged ETP products, OTC services, staking functionality, crypto loans for up to 180 days, etc. 
As for security, BKEX reviews mainly consider it a reliable exchange. BKEX is a platform that claims to be very secure, and its advanced security measures make it extremely difficult for hackers to access users' funds.
BKEX crypto exchange has served many users in over 100 countries and has been regulated and audited by third parties. By the traffic BKEX generates, it is clear that this exchange has a massive following with high trading volume. 
You can also visit our CoinStats blog to learn more about wallets, portfolio trackers, tokens, etc., and explore our in-depth reviews on various cryptocurrency exchanges such as Bybit, Crypto.com, BitMEX, FinexBox, Binance, WazirX, etc. Want to dig deeper? Discover the origin of decentralized finance, blockchain technology, and cryptocurrency with our articles What Is DeFi, How to Buy Cryptocurrency, and more.
Investment Advice Disclaimer: The information contained on this website is provided to you solely for informational purposes and does not constitute a recommendation by CoinStats to buy, sell, or hold any securities, financial product, or instrument mentioned in the content, nor does it constitute investment advice, financial advice, trading advice, or any other type of advice.
Cryptocurrency is a highly volatile market and sensitive to secondary activity, do your independent research, obtain your own advice, and only invest what you can afford to lose. There are significant risks involved in trading CFDs, stocks, and cryptocurrencies. Between 74-89% of retail investor accounts lose money when trading CFDs. You should consider your own circumstances and obtain your own advice before making any investment. You should also verify the nature of any product or service (including its legal status and relevant regulatory requirements) and consult the relevant regulators' websites before making any decision.